Rewind to the time of big hair bands, florescent colors, and outrageous styles in any of child or adult 80s costumes, Great for Halloween or 80s parties.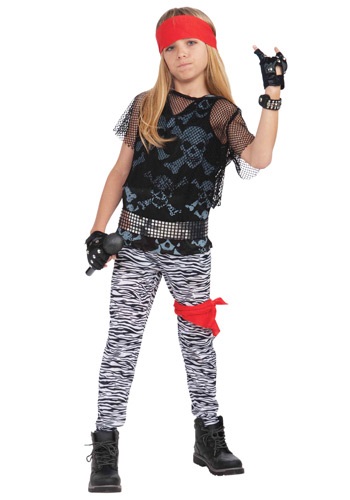 $24.99
This 80s Rock Star Boy Costume gives your son the look of an 80s grunge or heavy metal headbanger. Add a long wig, and he'll be ready to join a hair band-or start his own! [Read more]
$35.00
Punked out and ready to party like a rock star! The 80"s Party Girl costume includes camisole, zebra print corset, reversible pettiskirt and leg warmers. Glovelettes, funky jewelery and wigs can all be found in our great accessories section. [Read more]
$139.99
Bring the "bad" to the party when you wear this 80's Rebel Biker this Halloween! Costume features a black jumpsuit with lace up detail on the sides, a studded collar, and a front zipper. A studded belt is included. [Read more]
$28.49
She's So 80's Adult Costume Large Girls love pop music! Costume Includes: Dress and hat Available Sizes: Large Also Available In: Small Medium [Read more]
$39.99
Take your Femme Fatale look to the next level with this sexy dress. Costume features a black wet look dress. Dress features long lace sleeves and lace detail in the back. [Read more]
I am a Father and Husband. I enjoy camping and outdoor activities in Oregon, Washington and Idaho. I like sharing my hobbies and experiences with others and learning new things everyday. I enjoy sharing my thoughts about diverse topics of interests, such as solar power, renewable energy, bowling, the 1980s, theme parties and more.