80's Costumes are Hot! We have put together our favorite flashy, glamorous eighties costumes and 80's party outfits. Get ideas to create your own or get the costume, accessories, and more from one of the many costume merchants online. Of course, one can find special items at thrift stores and yard sales any time of the year.
$23.09 $17.32
Adult Costumes - Go all out to complete your 80's look with this I Love the 80's Shirt! [Read more]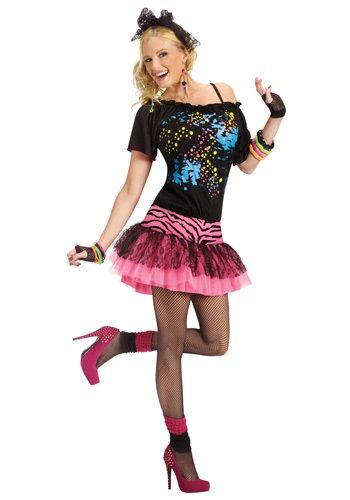 $28.99
It has been a couple of decades since Madonna was known as the 'Material Girl' but when she earned that title in the 80's it was because she had a style unlike any other. Channel the pop princess of yesteryear when you wear this 80s Pop Party Costume. [Read more]
$19.99
Create or complete your costume with this eye-popping green 80's adult petticoat. Kick up your heels and party like it's [Read more]
$38.99 $19.99
Now you can totally rule in this radical Teen Totally 80's Amy Costume. As if anyone else's costume could compete with your black lace, zebra print and neon colors. Whatever! It will give you the perfect excuse to jam out to the best 80's classics. [Read more]
Girls 80's Pop Star Diva Costume
$39.62 $27.73
Kids Costumes - This Girls 1980's Pop Star Diva Costume includes the 80's dress, fishnet glovelettes and the lace hair tie. Complete your look by adding a pair of Footless Tights, a pair of Sunglasses and some fun and colorful Bracelets, available separately. [Read more]
$68.19 $23.87
Sexy Costumes - This Sexy 1980's Pop Star Costume includes the black corset, layered pink, purple and black lace miniskirt, orange belt and the lacy pink headband. Microphone, fishnet stockings and boots available separately. Dress your date up as an 80's guy for a great couples costume look! [Read more]
You'll look awesome at the next 80's party or event with the right 80's costume accessories, hair and makeup. Be sure an put on your favorite 80's music while you are getting ready. Decoration you home for an 80's party can be great fun too.