80's Costumes are Hot! We have put together our favorite flashy, glamorous eighties costumes and 80's party outfits. Get ideas to create your own or get the costume, accessories, and more from one of the many costume merchants online. Of course, one can find special items at thrift stores and yard sales any time of the year.
WMU 1171288 Small/Medium 80s Pop Party Adult Costume
$59.48 $45.75
Dress fishnet glovelets and lace hair tie. Tights not included. Adult sm/med 2-8. [Read more]
$19.99
Create or complete your costume with this eye-popping green 80's adult petticoat. Kick up your heels and party like it's [Read more]
$19.99
Party like a star on Halloween when you wear this retro 80's Rock God child costume. The black and white; 100% polyester zebra-striped pants of this rocker costume comes complete with a black [Read more]

Costumes for all Occasions FM68204 Suspenders 80s Zebra
$12.69 $9.76
Cool-looking suspenders that will fit just about any 80s costume. One size fits most. Box Dimensions (in Inches) Length: 16.00 Width: 13.00 Height: 3.00 [Read more]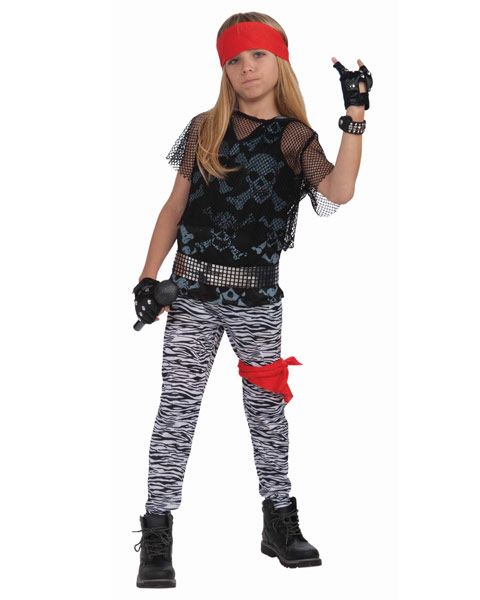 Forum Novelties F67011-M Medium Boys 80s Rock Star Costume
$28.26 $21.74
Your boy can be a rocker just like his dad was back in the day. The Halloween costume includes a skull tank top with a black mesh shirt over it a studded belt animal print leggings and a red bandana. You can accessorize with additional items such studded bracelets biker gloves and even an 80s rock star wig. It comes... [Read more]
You'll look awesome at the next 80's party or event with the right 80's costume accessories, hair and makeup. Be sure an put on your favorite 80's music while you are getting ready. Decoration you home for an 80's party can be great fun too.